31Heroes 2020 Events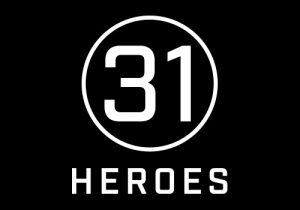 Memorial Beach Challenge/May 29, 2021 in Ocean City, NJ

Friends,

We have had to make the difficult decision to cancel the Memorial Beach Challenge this year. We look forward to this event just as much as you do, but feel it is the best decision for the safety and welfare of all involved. All registrations from this year will be applied to next year. If you have already registered for this year's event, you don't need to do anything.

The 2021 event will be on Saturday, May 29 and we know it will be bigger and better! Please mark your calendars. As you are aware, the mission of 31Heroes is to raise money and awareness through social and athletic events to support the families of Extortion 17 and honor their legacy by funding the treatment of traumatic brain injury and post-traumatic stress disorder.

The Memorial Beach Challenge is one of the largest fundraisers supporting 31Heroes and relies on the event to help fund the programs. Although we will not have the event this year, you can still help! If you haven't registered yet, why not now? We will leave the site open until next year. It is never too early to start thinking about running on the beach next year.

Other Great Ways to Continue Supporting 31Heroes and the Memorial Beach Challenge:
• Make a donation directly to 31Heroes
• Create a fundraising page and see how much you are able to raise in a year

Continue to follow us on our Facebook page and we will see you on May 29, 2021!

Please be safe everyone!
Thank you for your support and understanding.
– The Memorial Beach Challenge Team

The 31Heroes WOD (workout of the day) was specifically designed to remember the fallen heroes of August 6, 2011 and honor their legacy of sacrifice.

The 31Heroes WOD will take place simultaneously across the globe, in your local gym or a location of your choosing, on August 1, 2020. If August 1 does not work with your programming, don't let that stop you from completing the 31Heroes WOD on a different day of your choice.

Registration will open in early 2020.

New Realm will once again host the Main Event WOD in Virginia Beach where a large group of participants can gather together in fellowship and shared sweat to honor the fallen.

Radio Sponsors

Eagle Sponsor

New Realm is all about asking questions and rethinking tradition, so we are excited to have them as our partner this year.

Sponsor opportunities and Vendor booths are available. Contact Jill@31Heroes.com for more information.

31Miles for 31Heroes - August 8, 2020 in Washington, DC

Registration is OPEN.

Registration Limited to 350 individuals and will open in Spring 2020.